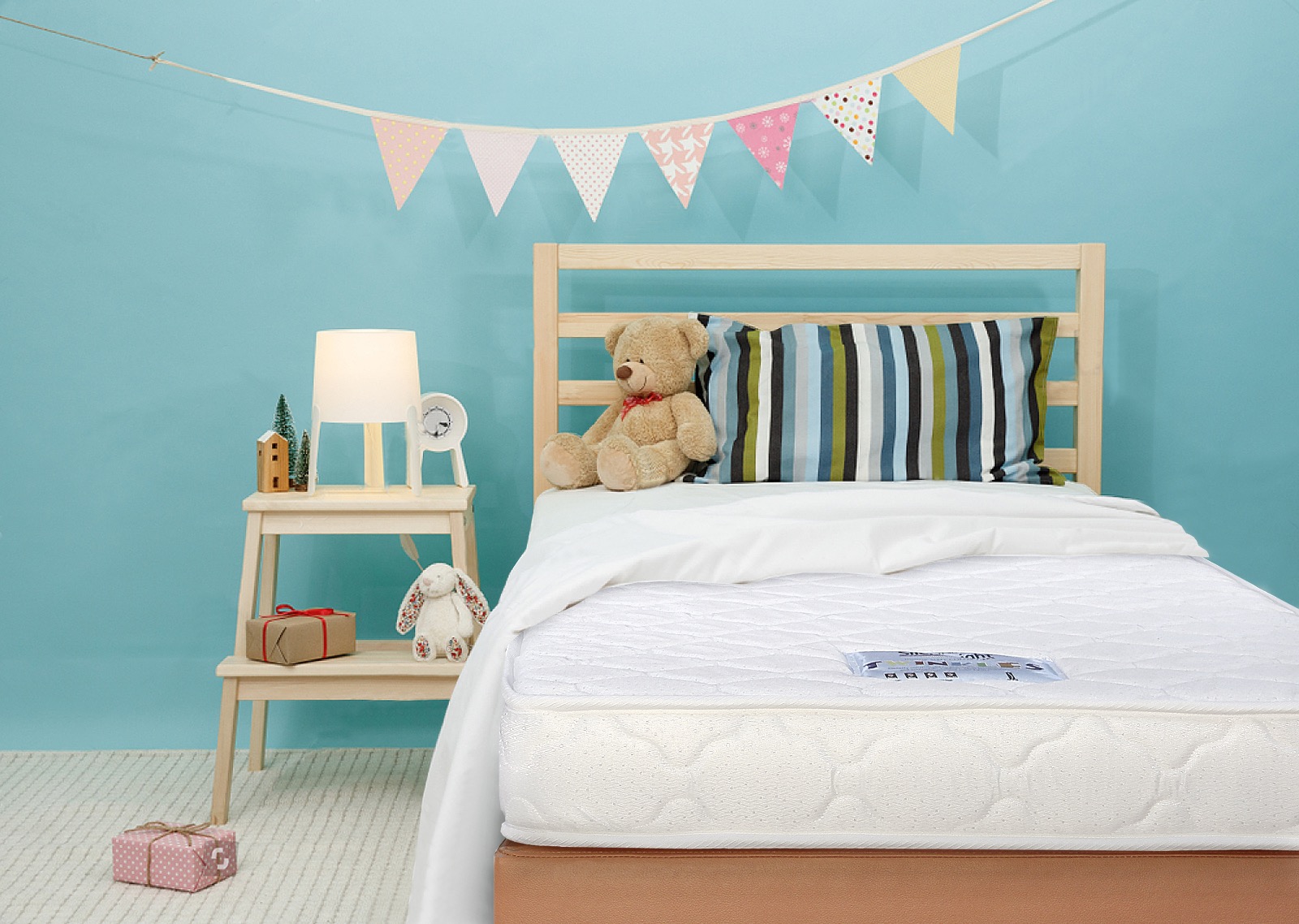 PRODUCT INFORMATION
What are your mattress sizes?
Our mattress sizes are as follows:
Single: 91cm x 190cm/ 36″ x75″
Twin: 107cm x 190cm/ 42″ x 75″
Queen: 152cm x 190cm/ 60″ x 75″
King: 183cm x 190cm/ 72″ x 75″
How often should I turn my bed?
Unless you have purchased a single side usage mattress we recommend that during the first six months of use, you turn your mattress every month.
You should alternate between turning the mattress over and rotating it from top-to-tail to ensure even settlement.
Do not allow the mattress to bang or fall against the side of the divan, as this may damage the spring system.
Although our 'No Turn' mattresses will never need to be turned over, we recommend that you rotate the mattress from top-to-tail regularly so that the mattress wears evenly.
How do I clean my mattress and/or base?
No mattress is completely colourfast. We, therefore, recommend that you use a mattress cover, which will protect it from coming into contact with body moisture or other liquids.
Do not use detergents or chemical cleaners on your mattress as this is likely to damage the fabric and stitching.
DELIVERY INFORMATION
How long does it take to deliver a Silentnight mattress and/or bed?
All beds and mattresses are made to order and we aim to deliver within 14 days of receiving your order.
Do you deliver outside of Singapore?
We only manufacture and deliver within Singapore.
What if my order arrives damaged?
In the unlikely event that your order arrives in an unsuitable condition, please contact us immediately, and if the damage has been caused in transit we will arrange a replacement as quickly as possible.
Delivery Time Slots
We offer 2 delivery slots, either 11am to 3pm and 4pm to 8pm.
During the festive season (from December through to February), we will adjust our delivery slots to 11am to 5pm and 5pm to 10pm.
Lifting Charges
Due to the size of the lifts in some HDB, apartment and condominium blocks, we may have to lift mattresses larger than 183cm x 190cm up the stair well. Our logistics team will inform you of the lifting charges during the delivery. We impose the following charges:
Levels 1 – 4: Complimentary
Levels 5 and above: $10 per level
RETURNS INFORMATION
My bed or mattress is faulty. What should I do?
If you've received a faulty product, then contact the sales consultant that assisted you in the store or our customer service team at 62698155 immediately
What should I expect from my new mattress?
Chances are that the springs and upholstery in your current mattress are not what they used to be, so your new mattress may seem a little stiff at first.
Please allow time for your body to adjust and the mattress to settle and you will be sure to receive a great night's sleep.
MANUFACTURING INFORMATION
Are all Silentnight beds made in Singapore?
All of our mattresses, upholstered bases and headboards are made in Singapore. We are so confident in the quality of our products we offer a limited warranty on all our beds and mattresses.
WHERE TO BUY
Do you have stockists in Singapore?
Silentnight (by a division of King Koil Singapore) only manufactures and deliver within Singapore. Visit our stockist page here.